How prepared is your organization?
Financial institutions and their boards often want to know if they're ready to tackle CECL compliance and what the impacts of CECL compliance might look like.
We have developed a CECL Rapid Readiness Assessment that enables you to quickly measure your enterprise-wide CECL readiness. Our assessment is based on survey-generated information that is designed for non-intrusive, efficient deployment. The survey covers all areas impacted by CECL. Survey results are analyzed and compiled into a list of readiness gaps, each with an estimated remediation level of effort and a remediation timing recommendation. The result is a much clearer roadmap to successful CECL compliance.
The assessment tool:
Addresses key functional areas (awareness, data, modeling, accounting). Each functional area has several sub-sections (e.g. loan segmentation, external modeling)
Requires approximately 30 minutes for each user to initially complete
Determines relative strengths and weaknesses via quantitative analysis of responses
Includes follow-up sessions to understand unique client challenges and barriers
Enables focus on client-specific areas of weakness
Drives recommendations and high-level roadmap to remediate identified weaknesses and ensure CECL compliance
Compares survey results/responses against leading practices and industry benchmarks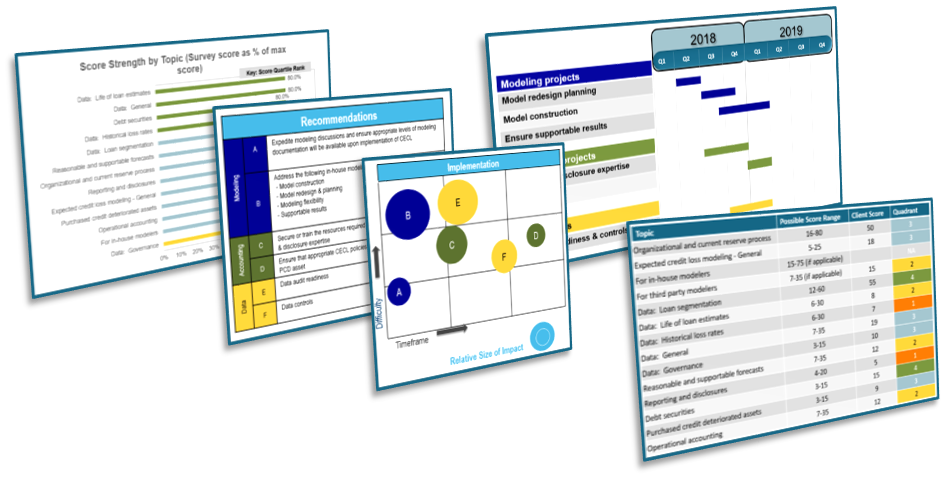 Once you have completed the assessment, we work with you to:
Hold working sessions to clarify and review survey results
Determine remediation prioritization and level of effort
Develop a high-level remediation project plan
Identify current and future state processes and procedures that require documentation
Share recommendations and collaborate with management to clarify the roadmap to CECL compliance
Are you ready for CECL?
Fill out the form below and we will be in touch with additional details.